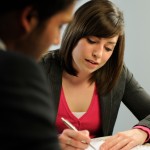 If you are a single mom, and you want to obtain a degree in accounting, you will need to check into the college scholarships for single moms offered by the Educational Foundation for Women in Accounting, or the EFWA. These moms scholarships are not offered every year, but when they are, they are worth applying for. There are two types of single moms scholarships offered by the organization: The Women in Transition Scholarship and the Women in Need Scholarship.
The Educational Foundation for Women in Accounting, or the EFWA's sole purpose is to "support the advancement of women in the accounting profession through the funding of education, research, career literature, publications and other projects. The Educational Foundation encourages and enables women to enter the accounting profession and empowers them to achieve equal opportunities and equal rewards".
The Women in Transition Scholarship is only available to women who will be freshmen, or who currently are freshmen in college. When this mom scholarship is awarded, it pays up to $16,000, which is intended to cover four years of school costs. Only one award is made. Again, this college scholarship for single moms is not awarded each year, depending on available funds.
The Women in Need Scholarship is only available to women who are currently in college, or will be returning to college, at the junior level. This scholarship for single mothers pays up to $2000 per year, for a period of two years. More than one award may be made, depending on available funds. It appears that this single mothers scholarship is available each year.
No matter which college mom scholarship you are applying for, you must be planning to pursue a degree and career in accounting. You must also be the only source of financial support for your family or for yourself, and awards are typically made to women who show financial need as well, as opposed to those who do not show a real financial need. Women who are single parents due to divorce or death are considered first, but women who have never been married, and have dependent children are also considered. You can only apply to one or the other but not both of the above college mother scholarships. You must also be a US citizen to apply and must attend a school in the US. Online classes may qualify too.
The application deadline for the EFWA single moms scholarships is May first of each year, and selections are typically made by the end of June but you can check in January of each year to see which scholarships will be available for that year. For more information go to EFWA scholarships for single moms or to apply.
For any questions you may call EFWA at (937) 424-3391 or contact:
The Educational Foundation for Women in Accounting
136 South Keowee St.
Dayton, OH 45402