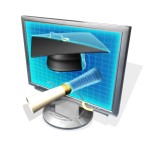 A higher education is becoming more and more important for everyone –especially moms. This is true whether you are a single mom or a married mom. As everyone knows it essentially takes two incomes these days to raise children. You need to find scholarships for moms because it is also important that your children see the importance that you place on education. Unfortunately, most moms cannot afford to pay for a higher education, which is why Project Working Mom is so important.
Project Working Mom offers a scholarship opportunity for moms. Project Working Mom is all about helping working parents overcome the obstacles facing adults interested in returning to school because of time, money and the confidence moms may be lacking. Their mission is to attack the crisis of the undereducated adult population in America, in which moms make up a large percentage. The program is operated and funded by several different sources, including eLearners.com (a website which connects prospective students with online classes), DeVry University, Walden University, and American Intercontinental University, Ashford University, Everest University, Virginia College, Capella University, Saint Leo University, Allied Schools, and Ashworth College. Through the program for 2010 there will be approximately $5 million available for full-tuition scholarships. These are scholarships for working moms.
In order to be eligible for these scholarships for moms you must reside in the United States or one of its territories. You must also be at least eighteen years old. Naturally, you must also be a mom, and ideally, you will already be in the workforce. Additionally, you must fill out an application, and provide a 1500 word essay. It is also important to note that this particular scholarship program for moms is only available to those moms who will be pursuing an online degree. The flexible nature of online schooling allows moms to obtain an education to fit their schedule around child rearing. By studying online, students also don't have to worry about traveling to campus or finding childcare. It's perfect for mothers.
Various criteria will be used to select the winners of the moms scholarships, including your educational background, your future educational goals, and more. The Project Working Mom Scholarship Program will award (285) full-tuition scholarships for a total of nearly $5 million to participating accredited online institutions. No specific dollar amount has been designated for each award, as each award is supposed to pay the full-tuition of the winner. Basically, however much your full tuition costs is how much your award will be. The program does state that the award amount for each scholarship for working moms will not be less than $688, and no more than $50,000.
For more information, or to apply for the Project Working Mom Scholarship Program go to scholarships for working mothers.
Related Articles