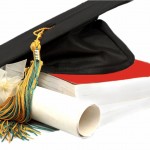 When President Obama said that he wanted more mothers to go back to school to advance or complete their educations, MyUSearch.com took him seriously. They now offer scholarships for moms in the amount of $1000. The name of their mom scholarship is 'Mommy Goes to College'.
MyUsearch is an online resource dedicated to matching students with colleges and providing fair and accurate college enrollment information. They take pride in the fact that they display no college ads on their site so they don't wrongly influence any student and that their college matching skills can be done as objectively as possible. With their 'Smart Questionnaire' they will match a student with the right college. This eliminates time, money and frustration for students compared to doing it themselves. Their process is based on honesty on the entire college enrollment procedure.
Unfortunately, only one mom scholarship is awarded each year and another USearch scholarship – a scholarship for left handed people is also handed out and you should als apply for it if your left handed. Even though there is only one awarded yealy apply for it because many won't which increases your chances of winning. The winner is selected based on their essay or essay video. The essay can be no longer than 750 words, or the video can be no longer than five minutes in length. In either format, you must answer the question "What is your biggest challenge as a mother trying to get a degree?" You must also explain how college can help you to overcome this challenge, and how mothers can be helped in the future as far as getting a college degree goes.
Because this mother scholarship award is not renewable, and is considered a 'low amount,' many people will not bother to apply for it, which increases your chances of winning. Although it is a small amount, and it isn't renewable, all of those small amounts can really add up when it comes to financing your college education. This is a little scholarship secret in that you should apply to as many low paying and easy scholarships as possible because they are easier to win.
The requirements for this mom scholarship are that you must be a mother, and your household income cannot be greater than $100,000. You must be planning to get an undergraduate degree, and planning to attend an accredited college or university in the United States. Graduate students may not apply. Additionally, you cannot already be enrolled in college. You also cannot have attended the school that you choose in the past. The deadline for applying is December 31st each year.
Applying for the mother scholarship, however, is fairly simple – aside from the essay or video that must be created and submitted; you simply need to register at MyUSearch, do the college match quiz (which determines your perfect match), and then follow the additional instructions for applying specifically for this scholarship. Even though the $1,000 USearch awards don't seem like much, their process may be beneficial in helping you move closer to the right college decision. To learn more information and to apply go to mom scholarship by USearch.