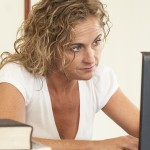 The goal of Emerge Scholarships for moms is to assist women who may have had their education interrupted and who must overcome significant barriers in order to complete their education in order to gain meaningful secure employment and give back to their communities. Approximately ten scholarships worth $5,000 each are awarded annually through this scholarship program.
Scholars chosen to receive Emerge scholarships for mothers are typically non-traditional students who have had their education interrupted or delayed. These women often have a vision of succeeding; however, may face obstacles and challenges. Special preference is typically given to applicants who have a history of giving back to their communities. Preference is also given to applicants who have focused their educational endeavors in the state of Georgia.
Unlike many typical scholarship programs, Emerge scholarships for women are not designed for recent high school graduates. These no traditional scholarships are also not intended for students who may have already received a large amount of financial assistance for completing their education. Applicants for this scholarship program may include women who are changing careers, women who are returning to school after a leave or hiatus, women who seek to advance their career and women who have been stay at home mothers and who are now entering or re-entering the workplace and require additional training and/or assistance.
The financial assistance provided by Emerge Scholarships may only be used for paying tuition and related fees at an educational institution. Funds are paid directly to the school. The precise amount of scholarship awards may vary based on the total number of scholarships to be awarded. Although ten scholarships were awarded in 2011, the number of women scholarships that will be awarded can vary from one year to another. Scholarship amounts may vary from $2,000 to $5,000 each. Scholarships are awarded for one year only and are not renewable.
Emerge scholarships for moms also offers international scholarship awards for students who may not actually reside in the United States. Such scholarships are only awarded to students who will be studying at colleges and universities in the United States. Applications are not accepted from international students who wish to apply for Emerge scholarships, but will be accepted from referring educational institutions.
Emerge is a non-profit organization that works to empower women to advance within their professional lives, while also allowing them to become economically self-sufficient, in order to benefit their families and communities. Since the inception of Emerge, more than 50 women have been supported through the provision of $200,000 in academic women scholarships.
To be eligible for an Emerge scholarship, applicants must be at least 25 years of age. Primary selection criteria will be based on the applicant's financial need, personal vision, service to community and future plans. Financial need will be based upon the student's employment, other scholarship funding, family contributions and other income. The selection committee will also evaluate the applicant's personal vision in terms of the alignment of their career goals with their life journey.
Overall, Emerge is seeking prospective scholarship recipients who will take advantage of this opportunity and their education to improve themselves and the people around them. All majors are accepted.
Applicants for domestic Emerge scholarships must be a current United States resident or U.S. citizen who is living abroad and who is applying to study at a college or university in the U.S. Foreign nationals who live in the U.S. and who possess a green card and who have plans to study in the U.S. may also apply. Scholarships are not awarded by Emerge for study outside of the United States.
Along with the scholarship funds, award recipients will also be presented at an awards luncheon in the metro Atlanta area. All womens scholarship recipients must attend the awards luncheon to qualify for the scholarship. Travel arrangements are made and paid for by Emerge. The deadline to apply for Emerge scholarships for moms is January 6th of each year.