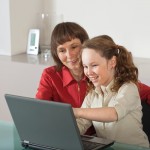 Easy scholarships for moms can be found from many places, but you just need to know where to look. Below we outline a number of the moms scholarships you can apply to even though they are not just for mothers only. If you work smart you will come up with some scholarships for mothers to pay for some if not all of your college tuition. Keep in mind you want any type of college financial aid even if it's something other then scholarships for moms such as grants for moms or federal work study programs. Don't shy away from FWS programs because you may feel that you won't have the time to work and go to school. Many jobs allow you to work on your college homework right on the job so it's like doing two for one.
If you will be attending any other university that has a University Women's Club, and you are a mom, you may be interested in the University Women's Club Nontraditional Student Scholarship. While this club scholarship is available for all female non-traditional students, as a mom, you can apply to this mom scholarship and grant opportunity if you fit the criteria.
The AAUW, also known as the American Association of University Women, has a scholarships program, offering college scholarships for moms and single women, including single parents. The AAUW scholarship awards $3 million annually, and also offers over 200 fellowships each year, as well as grants.
If you are Hispanic, and a single parent, you could win Dennys scholarships from Dennys Restaurant. These scholarships for mothers are awarded in amounts ranging from $500 to $1500, and you must show financial need in order to be eligible, along with other eligibility criteria. This is an excellent scholarship for single mothers opportunity that you should take advantage of.
You don't have to be into fishing – or even fish at all – to be eligible for IWFA fishing scholarship for moms. You do, however, have to be interested in marine sciences, and you do have to be a graduate student. This particular mom scholarship is funded, managed, and awarded by the International Women's Fishing Association.
If you are over the age of 35 and you are a woman with a low income, you may be eligible for the Jeannette Rankin Scholarship. This is a great JRF scholarship for moms because of the eligibility requirements, and these mothers scholarships will help you to pay for your college education, enabling you to enter into the workforce, in a great paying job, in order to break the cycle of poverty.
Since moms are generally older students, they are considered to be non-traditional students, and if this describes you, you should be seeking not only scholarships for moms and scholarships for single moms, but also scholarships for non-traditional students. You can start applying for non-traditional student scholarships at the Association for Non Traditional Students in Higher Education, or the ANTSHE.
A higher education is becoming more and more important for everyone – especially moms. This is true whether you are a single mom or a married mom, as everyone knows that it essentially takes two incomes these days to raise children. You need to find scholarships for moms because it is also important that your children see the importance that you place on education. Unfortunately, most moms cannot afford to pay for a higher education, which is why Project Working Mom is so important. Through the program, there is approximately $2 million available for full-tuition scholarships.
Raise the Nation is an organization that works towards the overall improvement of the United States. Because of their mission, as a whole, they do have a Raise the Nation scholarship for single moms available. The organization also has grants for moms too that you should take advantage of if you are eligible for them.
It's easy to get scholarships for moms if you know where to look and the above are a few of the easier ones to apply and recieve awards for if you fit their scholarship criteria. There are many more easy ways for moms to recieve scholarships and grants for moms which we discuss in our site.
Related Articles